Nincsen foci világverseny buta barom, elviselhetetlen patkány, iszonyúan balfék és arrogáns féreg játékosok nélkül, akikből remek kezdőtizenegyet lehet összeállítani. A foci csodája, hogy igazi népsportként gond nélkül képes felvonultatni az emberiség söpredékét. Íme a csapat, ahol tényleg a lúzerség a legkisebb bűn.
Kapus
Wilfredo Caballero (ARG) – Az önmaguk és a drukkereik szerint esélyes argentinok már a horvátok elleni meccsnek is az Izland ellen elhullajtott két pontot siratva indultak neki, hogy aztán minden olyan rosszra forduljon nekik, amilyet el se tudtak képzelni. A köcsögválogatott kapusaira jellemző, hogy még a három csoportmeccsen sem tudnak végig szerepelni, mert vagy eltiltják őket, vagy inkább a saját edzőjüknek támad jobb ötlete a kispadról. Caballero pazar gólpasszal kínálta meg a kapuja előtt sertepertélő Rebić-et, ezzel megadva az alaphangot csapata lemészárlásához, és egyúttal magabiztosan kijátszva magát a kezdőcsapatból. Mondjuk az meg már Sampaolit vagy Messit (vagy ki a túró az argentin szövetségi kapitány) minősíti, hogy olyan, harminchat éves kapussal kezd, aki az elmúlt négy évben 26 meccsen játszott a klubjában.
Védők
Aníbal Godoy (PAN) – A közép-amerikai ország történelmi sikert ért el, hiszen először az életben kijutottak egy világbajnokságra, és ott még az első góljukat is meg tudták lőni. Ennél több nem is nagyon volt bennük, eleve nem világos, hogy mi a francot keresnek ilyen országok a világbajnokságon. A Bezzegnemzetek például éktelen hülyeségnek tartja a csak amiatt bevezetendő 48 csapatos vébét, hogy az olaszok meg a hollandok is ott lehessenek, meg még mindenféle afrikai és ázsiai országok, akikért sok pénzt fizetnek João Havelange-nak Sepp Blatternek Gianni Infantinónak a szponzorok, mert még több Ronaldo és Messi mezt lehet ott eladni, ha a hulladék csapatuk is kijut a tornára. Panama ennek a politikának köszönhetően vihette haza a rendkívül izgalmas 2:11-es gólarányát a nulla pontjával együtt. Mi pedig ennek köszönhetően ismertük fel újra a két év alatt a Honvéd stabil kezdőjéig el nem jutó Godoyt, aki okosan, és kicsit sem feltűnően földre birkózta Harry Kane-t a tizenhatoson belül. Igazából ennek ellenére sem vele van itt a fő baj, hanem azzal, aki szerint Panamának ott a helye a világbajnokságon. És még inkább azzal, aki szerint Panamának ott a helye a világtérképen. Ennyi erővel a bősi vízierőmű is lehetne ország.
Gerard Piqué (ESP) – Sokáig Samuel Umtizi volt az esélyes az egyik középső védő posztjára, amiért olyan csodálatosan bután és feleslegesen belenyúlt kézzel a labdába a tizenhatoson belül az ausztrálok elleni csoportmeccsen. Ő azonban tudott javítani, hiszen győztes gólt fejelt a belgák elleni antifoci során, amivel kijátszotta magát a csapatból. Ezzel átadta a helyét Piquének, aki nemcsak magát, hanem egész Spanyolországot képviseli az összeállításban. A vébé előtt nagy esélyesként kezelt spanyolok legalább olyan stratégiai gondolkodási képességet villantottak, mint amikor a 16-17. században megszerezték a világ nemesfém-készletének nagyobb részét, hogy aztán a 19. századra a vagyont elcigánykodva már ismét egy viszonylag szegény ország legyenek. A 2012-es – feltehetően jó sokáig az utolsó – futballsikerük óta hat év telt el, de még nem sikerült feldolgozniuk azt a kellemetlen információt, hogy hiába passzolnak ezret, ha közben meg sem próbálnak közelebb jutni a kapuhoz, továbbá azt, hogy ez így nyolc év után már az ellenfeleknek sem tűnik olyan nagyon félelmetesnek. Maga Piqué azzal szorította ki a köcsögválogatottból például Ramost vagy Busquetset, hogy mégiscsak ő kezezte össze azt a végtelenül ostoba tizenegyest, amivel visszahozta a meccsbe az onnan már éppen kilógó ruszkikat, hogy aztán spanyolosan el is vérezzen a csapata. Irány vissza, a régi szép 90-es és 2000-es évekbe!
Jérôme Boateng (GER) – A köcsögválogatott legstabilabb tagja. Már csak az arckifejezéséért és a hajáért is alapból ott lenne a helye a keretben, de ő minden világversenyen megbízhatóan gondoskodik róla, hogy ennél hosszabb indoklást is írhassunk a neve mellé. Rögtön a svédek elleni csoportmeccs elején mindent megtett, hogy a németek maradék esélye is elszálljon a továbbjutásra. Utolsó emberként, hátulról rúgta fel az egyedül kapura törő Berget, ami egy világbajnokságnál prosztóbb helyen is kapásból piros lapot érne, de a lengyel bíró nem vette volna a szívére, hogy a címvédő már a második csoportmeccs után biztosan kiessen. A még sárgát sem kapó Boatenget viszont vitte a vére. A 82. percre összehozta a második, teljesen értelmetlenül, mezőnyben elkövetett suttyóságáért kapott sárga lapját is, és a második kiállítását már a kompromisszumkész spori sem tudta elboronálni. Azt nem lehet mondani, hogy a platinaszőke védő nem dolgozott meg a kiállításáért és az itteni csapattagságáért.
Pepe (POR) – Tegye fel a kezét, aki ismer visszataszítóbb, elviselhetetlenebb védőt ennél a koszos kis importált gettóhercegnél! Az alak, aki mellett Sergio Ramos talpig sportembernek látszik. A foci egyik örökös rákfenéje az alattomos féreg védő, aki folyamatosan szétfaragja, megfélemlíti a legkiemelkedőbb csatárokat, elveszi a kedvüket a játéktól, és mindezt még igazi mélybunkó, konfliktuskereső arcoskodással is megfejeli. A foci másik rákfenéje a fetrengő buzi, aki egy játékon kívüli, haverkodó legyintésre, szöglet előtt labdával lábon rúgásra, netán biztató vállpaskolásra is képes úgy reagálni, mintha éppen gyomron lőtték volna, és nem tudja eldönteni, hogy a buta arcát vagy a bokáját fogja fájdalmasabban. Mintha Gyurcsány Ferencnek lett volna egy náci utcai mozgalma is az MSZP mellett.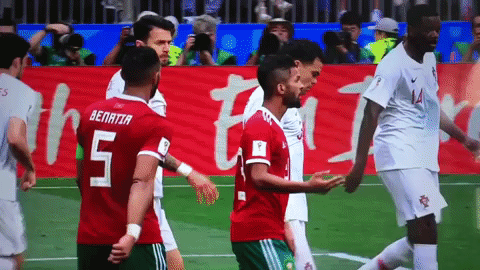 Középpályások
Toni Kroos (GER) – A németek úgy érkeztek az első vb-meccsükre Mexikó ellen, mint akik elvárják, hogy egyből adják nekik az idei trófeát is, továbbá a bírótól kezdve mindenki nyalja fényesre az árja seggüket. Ehhez bármiféle szégyenérzet nélkül (csak vicceltünk, a németekből alkatilag hiányzik a szégyenérzetre való képesség, hiszen csak parancsot teljesítenek) bevetették az amúgy éppen általuk leghangosabban cigányozott latin népek focifegyverét, a színészkedő fetrengést is. Kroos még a bírót is majdnem megtaszigálta egy neki nem tetsző ítéletnél, már-már azt várta az ember, hogy letérdepelteti, aztán szenvtelen arccal tarkón lövi, amiért kifelé ítélt szabadrúgást. Úgy viselkedett, mintha 1944. március 19-én lenne a Budai várban, de tévedett, ugyanis Moszkvában volt, az meg nem éppen hagyományos német sikerhelyszín. Mindenesetre a szervezők mulasztásának rójuk fel, hogy a fritzek másik két csoportmeccsét nem Leningrádba Szentpétervárra és Sztálingrádba Volgográdba tették.
Meşut Özil (GER) – A német társadalom most szemforgató módon rájött, hogy Özil és Gündogan nem németek, hanem törökök, és ezért nem tudnak teljes szívvel a német válogatottért focizni az Erdoğannal fényképezkedés mellett. Pedig semmi nem utalt eddig erre, csak a nevük, a származásuk, a nyelvük és az identitásuk. Persze a német társadalom ebből is csak azt fogja levonni, hogy Özil és Gündogan (meg Khedira) köcsögök, és még véletlenül se fogja meglátni benne az általánosságot, hogy történetesen éppen a német válogatott nem német tagjaival adódott ilyen különös, pont a nemzeti identitáshoz kapcsolódó motivációs gondocska. A német társadalomnak ugyanis pont úgy nem erőssége az általánosságok sallangmentes átlátása és őszinte kimondása, ahogy nem erőssége épelméjű kancellár maga fölé emelése. A németek csak azt és csak úgy látják át, amire és ahogy parancsot kaptak.
Granit Xhaka (SUI) – A svájci társadalom most szemforgató módon rájött, hogy Xhaka és Shakiri nem svájciak, hanem albánok, és pont ezért teljes szívvel tudnak örülni, ha góljaikkal sikerül kiejteni az ősi rivális pásztornépet a legdúsabb hegyoldalról. Szerencsére a svájci társadalom jóval aljasabb, sunyibb és körmönfontabb a németnél, ráadásul legbelül azt is sejthetik, hogy önmaguk ugyanolyan mértékben svájciak, mint albán középpályásaik, bosnyák és boszniai horvát és horvát horvát csatáraik, spanyol-chilei és kameruni balhátvédjeik, nigériai és elefántcsontparti belsővédőjük, zöld-foki szigeteki és délszudáni-kongói védekező középpályásaik, nem beszélve természetesen a jugoszláv edzőjükről. Egészen biztosak lehetünk benne, hogy a csendben és megoldatlanul véget ért jugoszláv polgárháború új fejezetét valamelyik festői kis kantonban írják majd, de ennek Xhaka már nem lesz részese, hiszen a zsoldért megtartható Shakiri, Dzsemaili, Behrami trióval ellentétben ő akkor már letekert ablakon kilógatott zászlóval autózik haza a Koszovóval mégiscsak egyesülő, és régi FIFA-szabályokat nagy nemzetközi hátszéllel átfogalmaztató Nagy-Albánia válogatottjába.
Csatárok
Michy Batshuayi (BEL) – A nagyközönség előtti rasszizmus manapság nem kimondottan divat, habár a franciák győzelme után azért – a tagadhatatlan tényeket kihasználva – felszínre bukkant a búvópatak. Valamiért minden világbajnokság és Európa-bajnokság úgy alakul, hogy még ha nem is forognak az ember gondolatai a játékosok bőrszíne körül, jön valami olyan ősbarom, aki önkéntesen felajánlkozik a rasszok közti értelmi különbségek szemléltetésére. A francia győzelem feletti rasszista huhogáson rettegő haladóknak érdemes lenne arra is figyelmet szentelniük, hogy a vébékeretekbe ne kerülhessenek be XIX. század végi angol gyarmati oktatófüzetek lapjairól lelépett szereplők.
Neymar (BRA) – A játékos, aki több időt tölt fekve, mint talpon. Kár azon keseregni, hogy amúgy kiváló focista, húzta magával a brazilokat (igen, egészen a dicső negyeddöntőig), és ha nem lenne ekkora hisztis picsa, akkor akár szerethető is lenne. Ugyanis ekkora hisztis picsa, ez nem is fog megváltozni, és sosem lesz szerethető. Még Rivaldo megdöbbentő 2002-es színészi alakítását is képes feledtetni ez a nyomorult, akinek a válogatottbeli sikereinek felsorolása feltehetően a pályafutása végén is kimerül majd a riói olimpiai bajnoki címben. Valahol mégiscsak igazságos, hogy Giroud még azzal a nézhetetlen teljesítményével is világbajnok lett Neymar helyett.
Harry Kane (ENG) – Először érkeztek nem nyílt, hanem csak titkos esélyesként az angolok, miután először nem a Sun és a Daily Maily szerkesztősége állította össze a világbajnoki keretüket. Csapatként egész jól elműködgettek addig, amíg nem jöttek szembe komolyabb ellenfelek, de az egész annyira felidézhetetenül semmi volt, hogy pár hónap múltán már azon is csodálkozni fogunk, ha valaki megemlíti nekünk, hogy elődöntősök voltak. A gusztustalan angol történelmi szerencse tárgykörébe sorolandó Harry Kane, a vb-történet legsemmilyenebb gólkirálya. Nemhogy ronaldói (az igazira gondolunk) lehengerlő tudás, de még sztojcskovi báj sem volt benne, csak ködös angol szürkeség. Hármat tizenegyesből rúgott, amire talán még Mracskó Mihály is képes lett volna, egyszer meg rárúgták a labdát, és onnan pattant be. De nem ám úgy inzaghisan pattant be róla, hogy legalább szemfülesen jó helyen szotyizott, hanem messze állt a kaputól, csak ordenáré nagy mákja volt. Annyi köze volt ahhoz a gólhoz, mint Montgomery tábornoknak a világháború megnyeréséhez. Ez az ünnepelt csatárzseni emellett magabiztosan hagyta ki pár másodpercen belül kétszer annak a lehetőségét, hogy döntőbe lője a csapatát. Még a gólkirályságot egyetlen jól sikerült meccsel megszerző Oleg Szalenko is sokkal nagyobb durranás volt. És az Európába éppen átigazolt Denílson sem volt túlértékeltebb.
Edző
Lionel Messi és Jorge Sampaoli (ARG) – Az egész vébé talán legjobb bohózatává váltak az argentinok, akik papíron talán mindenkinél erősebb támadórészleggel érkeztek, és egészen az első meccsig esélyesként emlegették őket. A legelvetemültebb Ganxsta Zolik még a második meccsig is. Végül három gólt bírtak összegyötörni a csoportban, és továbbvánszorogtak ugyan, de már ekkor mindenki azon röhögött, hogy ezeket akárki elintézné a nyolcaddöntőben. Már amikor nem azon röhögtünk, hogy ezek még a spanyoloknál is hülyébbek, mert nem is a vb előtt, hanem közben tették jégre palotapuccsal az edzőjüket. Eközben a védőplexit előbb önkívületben összepúderező, majd azon faszt mutogatva átmászni akaró, legvégül a jól végzett munkában megfáradva elszenderedő Maradona elvtárs lett a világbajnokság legnagyobb sztárja, és milyen szerencse, hogy nagy dérrel-dúrral megmutatta magát és a karóráit. Így könnyű volt felidéznünk, hogy még az az argentin csapat sem volt szarabb a mostaninál, amelyik az ő tehetetlenül dúló-fúló, majd csak üveges tekintettel bámuló irányítása mellett szopott ki 0:4-re a bivalyerős németektől a 2010-es vb negyeddöntőjében. Az a csapat legalább támadni tudott, ha már védekezni nem is. Ennek a mostaninak meg annyi volt a szuperképessége, hogy Messi kurva sok pénzt keres a Barcelonában.